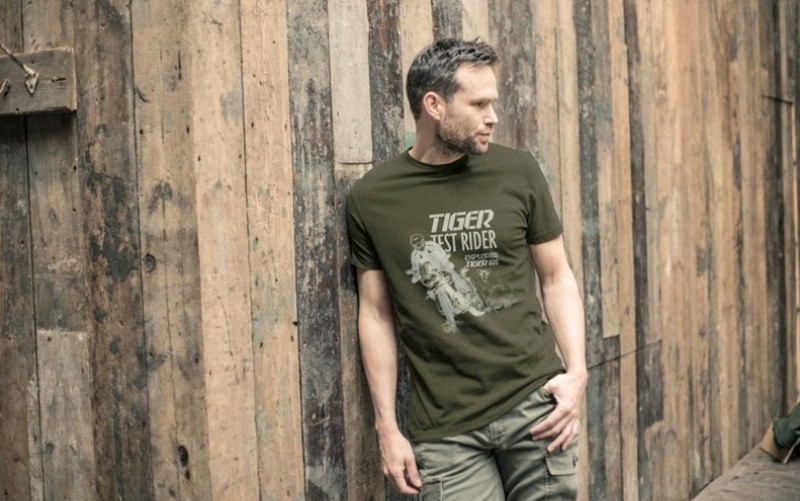 Get an Exclusive T-shirt
We're confident that you will be impressed by our Adventure range and as an added incentive we are giving away a Limited Edition Tiger Test Ride T-Shirt when you test ride selected Triumph Tigers* during April 2017.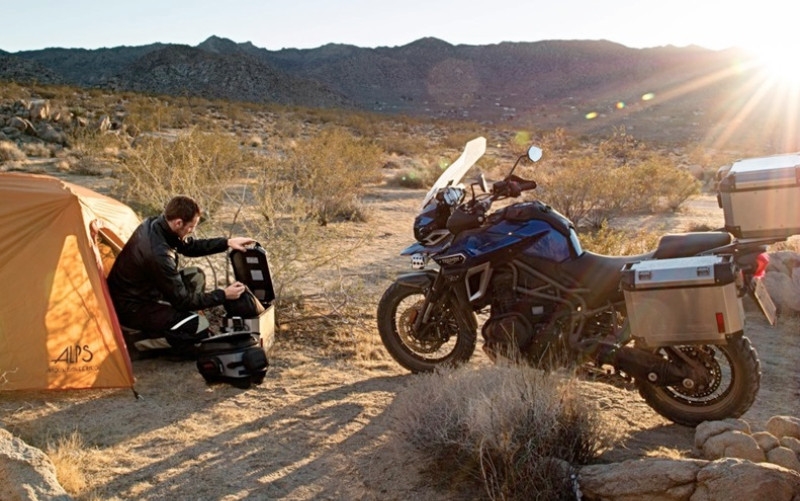 Complimentary Pannier Kits
Receive a complimentary set of Silver Aluminium Expedition Panniers worth £535 when you purchase one of our new Tiger XRx, XRX low, XRT, and XCx, XCx Low, XCA – be even more equipped for great adventures!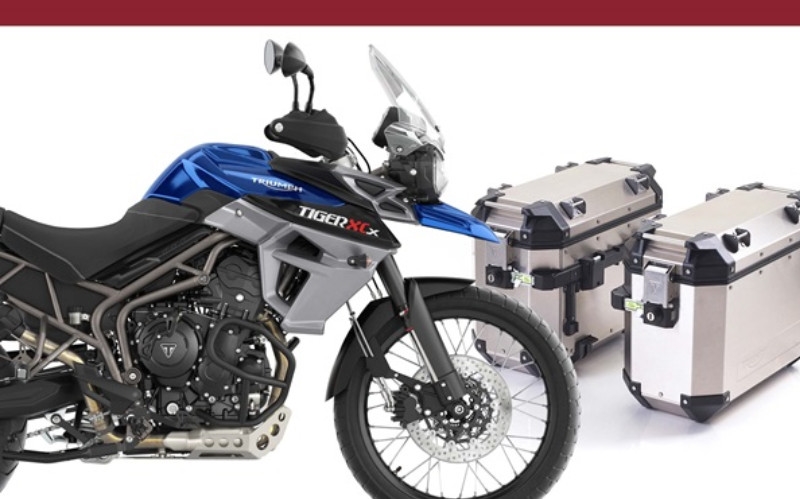 Tiger 800 XCX
Capability personified, the determined Triumph Tiger 800 XCx features a dual personality, optimised to deliver smooth road riding and focussed off-road agility. Featuring a 21 inch front spoked wheel delivering performance and comfort, the Tiger 800 XCx can deliver dynamic agility on all terrain types. The three available riding modes; Road, Off-Road and Rider Programmable, allows the rider to completely tailor the bike to suit the adventure.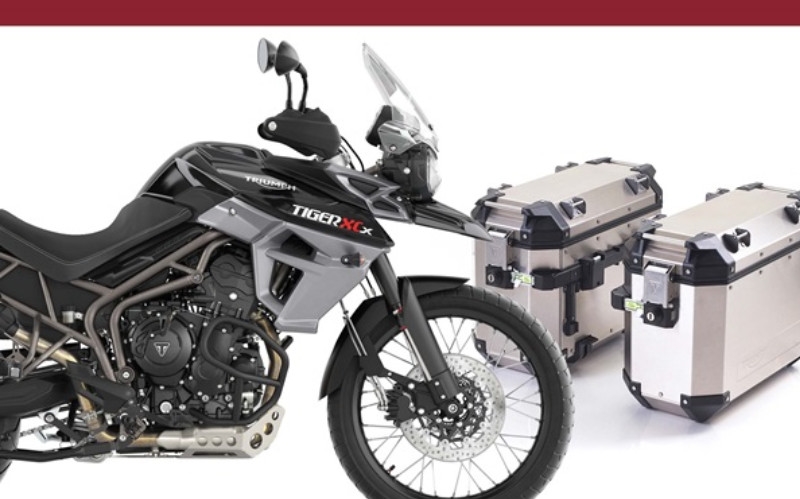 Tiger 800 XCx Low
The Tiger 800 XCx low version reduces the seat height by an additional 50mm making it accessible to even more riders. The lower profile has been achieved through a redesigned seat and model specific, tailored suspension. The Tiger 800 XCx low version retains all the off-road and on-road capabilities, supported by a 21 inch front spoked wheel that is unique to the XC models.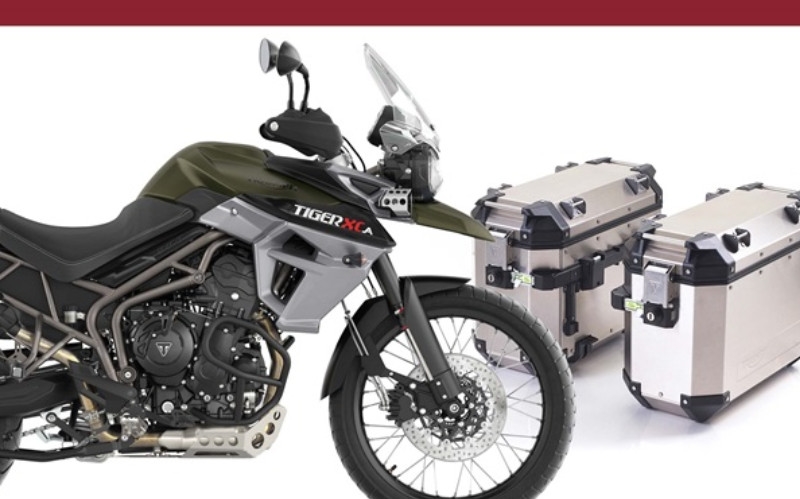 Tiger 800 XCA
The Tiger 800 XCA is our top specification model, designed to take you where you want to go, even when the road runs out. Featuring a 21 inch front spoked wheel, adjustable WP premium suspension and three Riding Modes, the Tiger 800 XCA is packed with technology that is configurable for all terrains. LED fog lamps, aluminium pannier rails, heated grips and heated seats all come as standard, making the XCA fully equipped and ready to explore. The most versatile Tiger of all, the 800 XCA delivers optimum performance, comfort and dynamic agility in all conditions and across even the most challenging of terrains.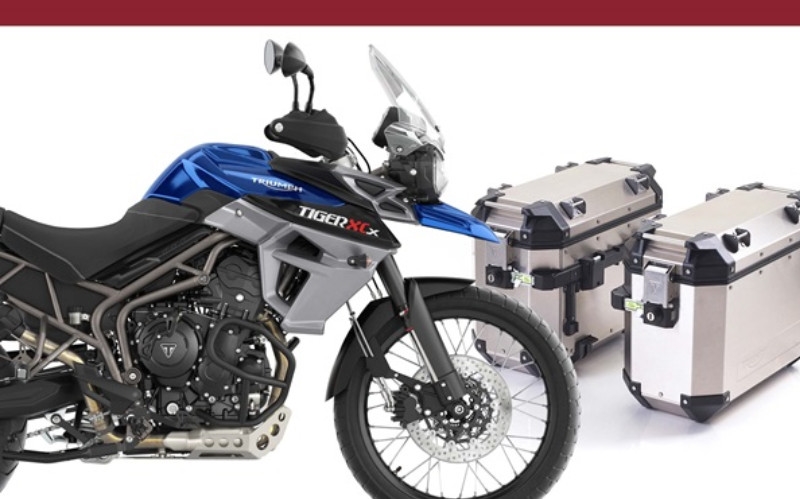 Tiger 800 XRX
A brilliant bike for every day adventures, the Triumph Tiger 800 XRx is a thrilling motorcycle packed with technology and character. With its responsive ride-by-wire throttle, the torque rich triple engine is the characterful beating heart of this motorcycle. Loaded with intuitive technology to keep the rider safe and connected with the road, the bike has three selectable Riding Modes, switchable ABS and traction control that provide rider confidence. Comfort is enhanced by the aero optimised screen, cruise control and adjustable seat height.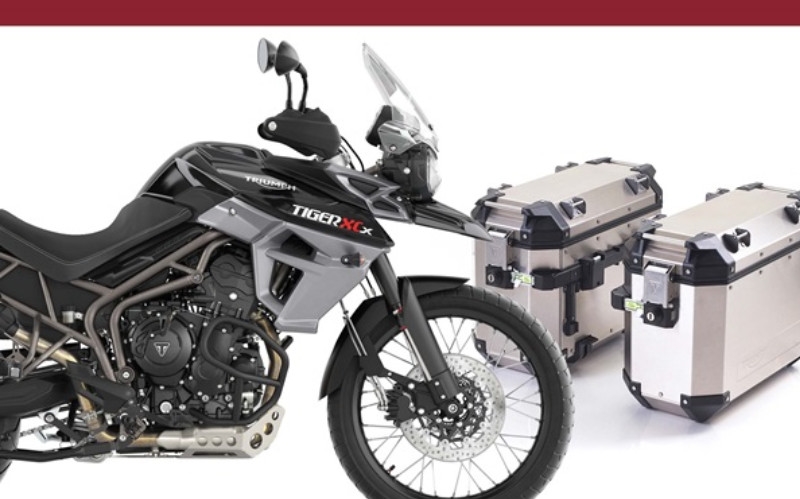 Tiger 800 XRX Low
The Tiger 800 XRx low version has all the great quality and innovative engineering of the 800 XRx, but with the added benefit of a bespoke configuration that reduces the seat height by an additional 50mm, making this incredible motorcycle accessible to even more riders. The Tiger XRx Low version also benefits from model specific, tailored suspension and a revised radiator guard and aluminium sump guard.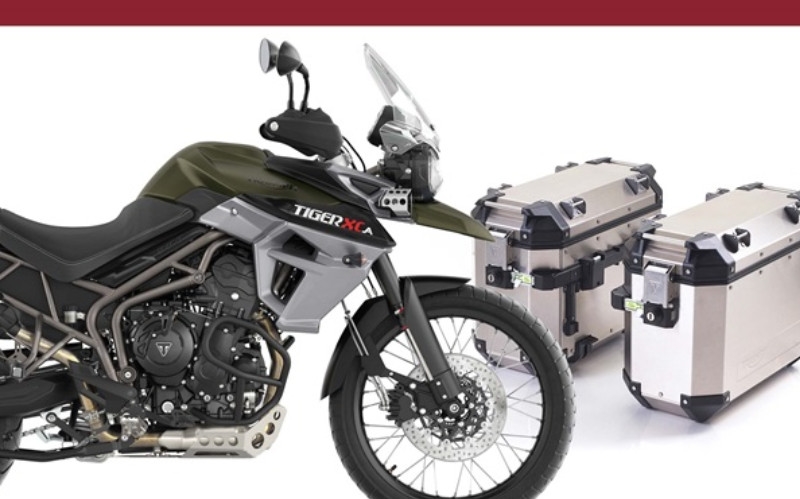 Tiger 800 XRT
The Tiger 800 XRT is our top specification XR model, perfect for all-day, on-road adventures. Thrilling, agile, comfortable and highly manoeuvrable, the Tiger 800 XRT features a characterful torque rich 800cc triple engine which eats miles. All-day comfort is provided by the ergonomic riding position, precision-made cast wheels, heated grips and heated seats which are all fitted as standard, along with enhanced visibility provided by the addition of LED fog lamps – leaving you ready to explore the world.
Expedition Aluminium Panniers (Silver)
These 37 litre water resistant panniers are made from a 1.5mm thick single skin aluminium structure. The 'One Key' locking mechanism that's matched to the ignition key means you don't have the hassle of separate keys. And with reinforced polymer corners, this luggage is rugged enough to handle any adventure. Bespoke mounting frames with quick release mechanism make them easily accessible without compromising your bike's performance.
Requires Expedition Pannier Mounting Kit (A9508193) Any mounting kits required to fit the luggage system as part of buying a new motorcycle under the April Tiger Adventure offer* will also be included.
Complete The Look…

The only person that can improve on what we do, is you. That's why we have created an extensive range of accessories for you to fine tune your Tiger to suit your ride.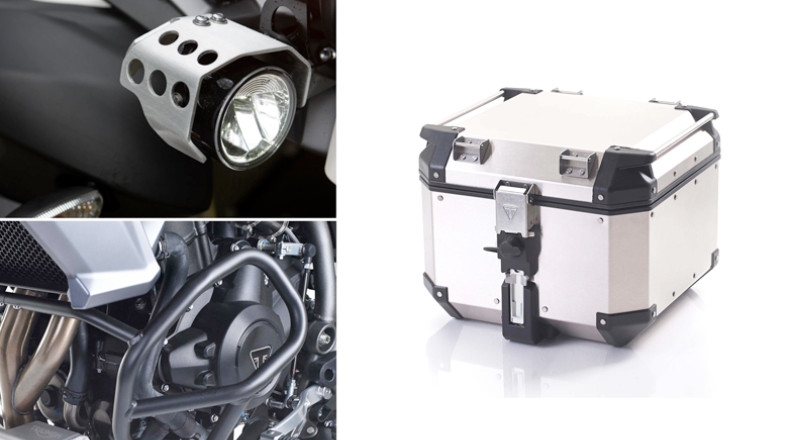 Expedition Aluminium Top Box Silver – A9500530

Water resistant Top Box made from a 1.5mm thick single skin aluminium structure with enhanced protection from polymer corner bumper reinforcements. Features Triumph branded base and latch. Dynamic mounting assembly ensures performance levels are not compromised even when fully loaded, with a quick release attachment for ease of use.
LED Fog Lights – A9838021

High performance dual fog lamp kit featuring high power Philips Altilin LEDs, drilled and brushed marine grade aluminium shields and an integrated tubular mounting rail. Fully waterproof illuminated push button for ease of use in the worst of conditions.
Engine Protection Bars – A9788004
Fabricated steel engine bars finished in durable textured powder coat finish. Main construction manufactured from 22mm steel tube for optimum strength. Supplied complete with all mounting hardware.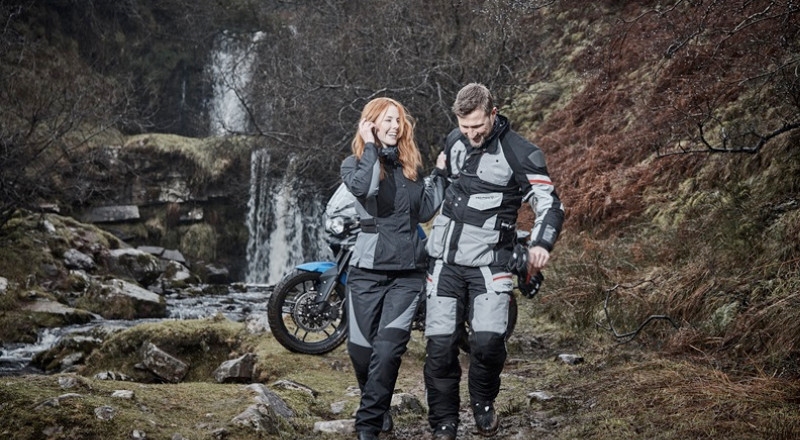 Our Adventure Doesn't Stop When The Road Ends
Fabric technology and sleek design deliver the ultimate riding gear for any adventure.
Wherever the journey, these adventure-tour jeans and adventure-tour jacket have an internal removable waterproof lining to ensure they are fully functional, no matter how long the trip.
Terms and Conditions for the April Tiger Adventure Offers
Test Ride Campaign April 2017 T-Shirt Promotion
1. The Tiger Adventure Test Ride Campaign 2017 T-Shirt Promotion (The Promotion) operates from Friday 31 March 2017 to Sunday 30 April 2017 only (The Open Period).
2. Entry is open to residents in the UK (England, Scotland, Wales and Northern Ireland) and qualifying countries in Europe (France, Italy, Switzerland, Germany, Belgium, Netherlands, Sweden and Spain) for anyone able to legally complete a test ride.
3. The Promotion is open to anyone completing a test ride on a new Tiger Adventure demonstration bike (new Tiger 800 or new Tiger Explorer only, excluding Tiger Sport) at an official Triumph Dealership during the opening hours of participating Triumph Dealerships in the Open Period.
4. The Promotion offer of a Limited Edition Tiger Adventure T-Shirt (T-Shirt) is free and no purchase is necessary. One T-shirt per person, subject to available sizes and stock availability. No cash or alternative item will be provided, except in the event of circumstances outside of its control, the Triumph Dealership reserves the right to substitute a similar item of equal or greater value.
5. The participating dealer will confirm the requirements to be offered a test ride in terms of licence and any particular conditions when the test ride is booked.
6. The participating dealer reserves the right to refuse a test ride in which case a T-shirt will not be provided.
7. The address for correspondence relating to The Promotion is The Marketing Department, Triumph Motorcycles Limited, Normandy Way, Hinckley, Leicestershire, LE10 3BZ United Kingdom.
8. In the event of circumstances outside the reasonable control of Triumph Motorcycles, or otherwise where fraud, abuse, and/or an error (human or computer) affects or could affect the proper operation of this promotion, and only where circumstances make this unavoidable, the Promoter reserves the right to cancel or amend the promotion or these terms and conditions , at any stage, but will always endeavour to minimize the effect to participants in order to avoid undue disappointment.
9. Any question concerning the legal interpretation of the rules will be based on English law and the Courts of England and Wales will have exclusive jurisdiction.
Tiger Adventure Complimentary Panniers Offer
Triumph Motorcycles is offering a set of complimentary Silver Aluminum Expedition Panniers (RRP £535.00) on purchases of new XRX, XRX Low, XRT, XCX, XCX Low and XCA 2017 Tiger 800 and TigerExplorer model motorcycles for a limited time only. Available in Silver Aluminum colour only.
If a mounting kit is required to fit the luggage system to the motorcycle (and is not already included within the motorcycle purchase) the kit (part number A9508193) will be provided without cost, aspart of the complimentary pannier offer (RRP £255.00). Fitting charges may apply.
Offer is subject to availability, subject to change and can be withdrawn at any time.
The Triumph Dealership reserves the right to substitute a similar item of equal or greater value.
No cash or alternative item will be provided.